Keyboard Mouse Handwriting Pad Voice Input for PC Computer Windows, Mac & Linux (Ubuntu, Debian, Raspberry Pi)
iWritingPad brings iPad experience to any desktop PCs including Windows, Mac and Linux. The touch screen gestures as remote mouse and handwriting recognition keyboard in iPad free Desktop PC / Home Theatre PC (HTPC) / TV users from traditional Mouse and Keyboard. With iWritingPad, remote internet browsing and business demonstration  become a great fun.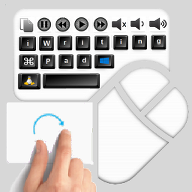 You can enjoy not only the basic remote Mouse function to control your desktop but also scrolling, drag & drop, resizing the Windows and moving the Windows freely through iWritingPad.
iWritingPad is a "Must-Have" Apps for any businessman to conduct a vivid presentation or use it as a remote control for your desktop or  Home Theatre PC (HTPC) connected to your TV of hotel room / living room.
What are you waiting for? Try it now. It is free! 
Prerequisites
It also requires to install iWritingPad Client program on your desktop. Please refer to "Download & Installation".
PC desktop with Windows 10, Windows 8, Windows 7, Vista and XP are supported.
The Apple Mac desktops with OS X 10.6 or later are supported from iWritingPad version 1.1.2 or later.
Linux desktops with Debian, Ubuntu and Raspbian are supported.
Universal App that both iPhone and iPad or Android phone and tablet are supported.
Product Support
Please report your issues to our Report Issue Post.
Please share with us any suggestions to our Valuable Suggestion Post.
Please send us your message through WhatsApp, LINE or WeChat at +852 5206 1869.
To be informed of the future enhancements in iWritingPad, please join us at Facebook.

Live Demo videos
Just spend a few minutes to learn more iWritingPad below.
Notes to Mac Desktop users
Moving Windows gesture by three fingers drag – Different from Windows user, Mac user requires to hold the three fingers for a short moments to put the window under the mouse pointer in focus prior to dragging the Mac window objects.
Maximize,  Minimize and "Restore" Window by Spread & Pinch gestures – Since the concept of resizing windows in Mac is different from Microsoft Window. There is no "Maximize" & "Restore" window in Mac. Instead, it relies on the "Green Button" of the  Mac's window.  Such "Green Button" is for "Zoom to Fit". "Zoom to Fit" does not mean the windows must be maximised to full screen.  Instead, Mac OS X will determine the best size to display the current window.
The "Zoom to Fit" – Green button, "Minimize" – Orange button of Mac's window – These buttons MUST BE seen on the display screen for iWritingPad to perform the required operation on the Mac's windows. Otherwise, the spread and pinch gestures will be skipped.